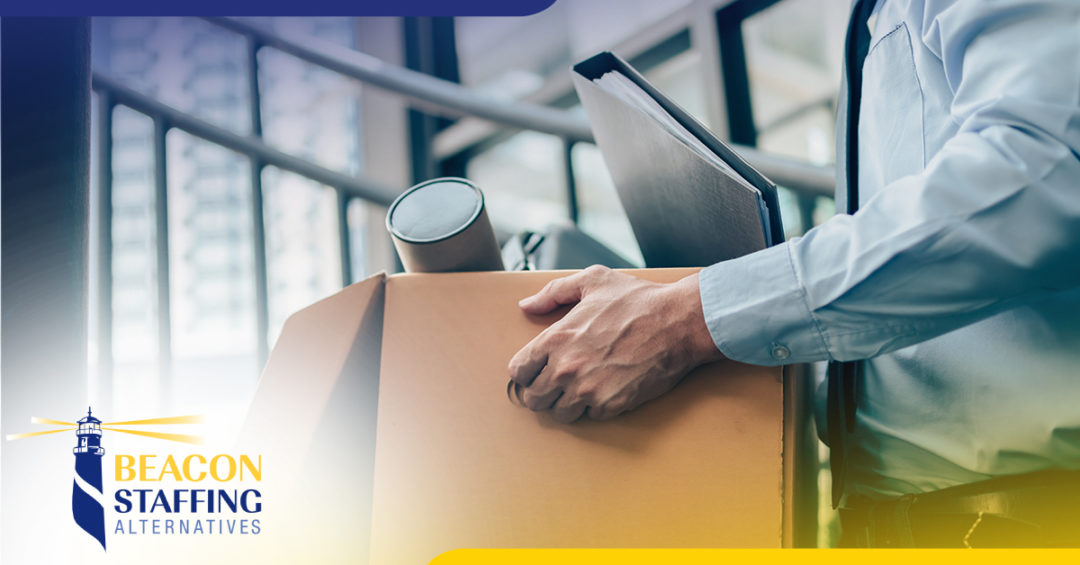 Being laid off is a tough spot to be in. You are facing financial stress, and the emotional toll can be steep. It can be challenging to keep control of your emotions and not react by saying or doing things that cause long-term damage to you, your relationships, and your career.
If you're facing layoffs in these challenging times, here are 4 top mistakes to avoid to prevent your unlucky situation from becoming damaging.
Mistake #1: Losing Touch with Former Coworkers
You probably forged connections with your coworkers if you worked at your job for any length. Some of them may even be good friends. Whether you consider yourself close with former work colleagues or not, don't lose touch with them. Staying on good terms with former coworkers gives you an excellent source for professional references and potentially even a new job.
Mistake #2: Badmouthing Your Former Employer
Feeling upset when your company chooses to lay you off is natural. Whatever the reason, it is a big mistake to voice your bitterness or anger on social media or, even worse, during an interview. Not only is it unprofessional, but it could even make you vulnerable to a lawsuit. Keep your cool, stick to the facts if asked about your situation, and keep emotion out.
Mistake #3: Not Networking
Losing your job is discouraging and stressful, so, understandably, you may not feel like reaching out to others immediately. This is a mistake because if you don't get out there and network, you may be unemployed for much longer than necessary. Swallow your pride and ask friends and former coworkers for help.
Mistake #4: Wallowing in Your Misfortune
It hurts when you get laid off, even if you saw it coming. It's also stressful and scary. Take some time to grieve the loss and experience your feelings of disappointment and self-pity. After a day or two, dust off your resume, search the job boards, and contact former coworkers. Returning to the job market will help you feel better and get a new job much sooner.
No matter how you look at it, being laid off is hard. It can be easy to get stuck in a cycle of bad feelings and inactivity, making mistakes that cause long-term harm. But you can turn your unfortunate situation into a positive one. And your next job could be even better than your lost one.
Laid off from a position? Beacon Staffing is here to help you start your job search!

Temporary employment is often a stepping stone to full-time job opportunities. Many job seekers use a temp job as a way into their dream job. Temp, freelance, or contract work is considered one of the best ways to gain an advantage over external candidates when a permanent or full-time position is available.
If you're interested in transforming your temp assignment into a full-time job, here are some tips to give you a leg up and in the door for your dream job.
1. Find out if permanent employment is possible.
Before you take a temp or contract position with the company, ask about their hiring policy and whether they take on temp employees for permanent roles.
2. Show enthusiasm and a good mindset.
Treat your temp position like a permanent one. Go the extra mile and show enthusiasm and commitment. Take a genuine interest in your job and be consistent with what you deliver every day.
3. Network.
Networking, when done right, is the best way to find a job. Keep in touch with your contacts and always look for new opportunities and connections. Build relationships with coworkers and leaders to reinforce your value and be visible. Make friends and show just how valuable an asset you would be as a permanent employee.
4. Get to Know the Company.
Research the company's history, brand, culture, and goals. Understanding the organization will help you know where you potentially fit in the overall company and how your unique perspective and skills can benefit the whole and the area you specialize in.
5. Reinforce Your Soft Skills.
Though technical skills are always in demand, soft skills are more appreciated than ever. The ability to get along with others, work as a team player, and communicate well, combined with good technical skills, show your employer that you have what it takes to be an excellent permanent employee and leader.
6. Plant the Seeds Early.
If you're interested in becoming a permanent employee, find out early on what it will take to get an offer. Showing interest early on increases the chances that you will be considered when permanent positions need filling.
Temporary work can transition into full-time employment and often does. If you want to turn your short-term role into a long-term job, be patient and confident, keep the above tips in mind and prepare to settle into your dream job.
If you're struggling to find a full-time job that works for you, get in touch with our team today!