Millions of Americans face layoffs. Layoffs may result from various factors but are rarely expected and never fun. Experiencing a layoff isn't the end, however. You can and will go on to have a great career once you get through this setback.
If you're experiencing a layoff or want to be prepared if you ever face one, these tips may help you to bounce back:
Mourn Your Loss
Being laid off is a negative experience. You've lost your job, and like any loss, it is essential that you take time and cope with the loss. Stress, anxiety, depression, and anger are some of the emotions you may experience as you cope with your job loss. It is vital to work through these feelings before moving forward.
Prioritize Self-Care
Prioritize your physical and mental health during this time. Sleep well, practice good eating habits, exercise regularly, and stay in touch with friends and family. Taking care of yourself ensures you will get through this time in the healthiest way possible and prepare you to move forward when ready.
Assess Your Finances
Now that you do not have regular money, you must evaluate your finances and make essential spending choices. Go over your finances, including your last paycheck, any severance pay you receive, and unemployment compensation. Ensure you only spend money on your needs, such as rent, utilities, groceries, and bills.
Start Networking
Stay in touch with your coworkers and networking contacts, and try to connect with other industry peers and experts. Many open roles are filled because of networking, so don't underestimate the importance of making and keeping those connections.
Update Your Resume and Skills
As you're unemployed, look back at your time with the company and assess what accomplishments you can add to your resume. Prospective employers want candidates who can add value to their company, help them reach their business goals, and participate fully in their company culture. Show the hard and soft skills you have built and perfected with your former employer.
This is also an ideal time to take some skill-related classes. Sign up for workshops or courses at your local college or online to build your skills, strengthen your talent marketability, and keep your mind sharp and ready to move forward professionally.
Consider Part-Time Positions
Switching to part-time work may be a challenging choice, but it can be a great option to generate income and keep your skills in shape while you look for a full-time position. Part-time, temporary, and contract work are all viable options and, in some cases, could lead to a permanent position.
Work with a Recruiter
Staffing agencies offer insight and inside access to many companies and positions that might be difficult to access independently. Staffing agencies help you prepare for job opportunities, connecting you with the right ones and getting you back to work quickly and effectively.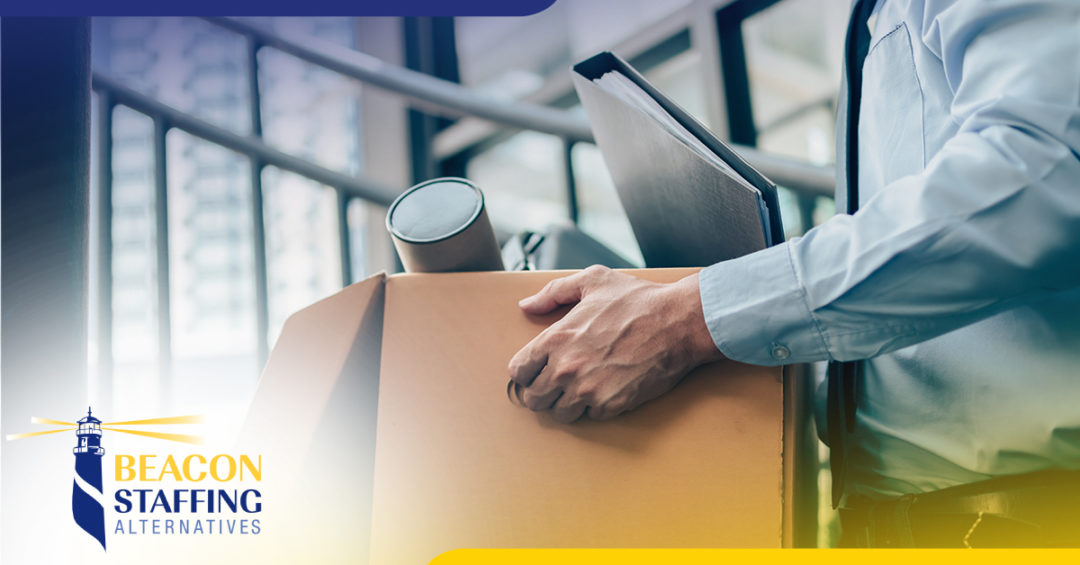 Being laid off is a tough spot to be in. You are facing financial stress, and the emotional toll can be steep. It can be challenging to keep control of your emotions and not react by saying or doing things that cause long-term damage to you, your relationships, and your career.
If you're facing layoffs in these challenging times, here are 4 top mistakes to avoid to prevent your unlucky situation from becoming damaging.
Mistake #1: Losing Touch with Former Coworkers
You probably forged connections with your coworkers if you worked at your job for any length. Some of them may even be good friends. Whether you consider yourself close with former work colleagues or not, don't lose touch with them. Staying on good terms with former coworkers gives you an excellent source for professional references and potentially even a new job.
Mistake #2: Badmouthing Your Former Employer
Feeling upset when your company chooses to lay you off is natural. Whatever the reason, it is a big mistake to voice your bitterness or anger on social media or, even worse, during an interview. Not only is it unprofessional, but it could even make you vulnerable to a lawsuit. Keep your cool, stick to the facts if asked about your situation, and keep emotion out.
Mistake #3: Not Networking
Losing your job is discouraging and stressful, so, understandably, you may not feel like reaching out to others immediately. This is a mistake because if you don't get out there and network, you may be unemployed for much longer than necessary. Swallow your pride and ask friends and former coworkers for help.
Mistake #4: Wallowing in Your Misfortune
It hurts when you get laid off, even if you saw it coming. It's also stressful and scary. Take some time to grieve the loss and experience your feelings of disappointment and self-pity. After a day or two, dust off your resume, search the job boards, and contact former coworkers. Returning to the job market will help you feel better and get a new job much sooner.
No matter how you look at it, being laid off is hard. It can be easy to get stuck in a cycle of bad feelings and inactivity, making mistakes that cause long-term harm. But you can turn your unfortunate situation into a positive one. And your next job could be even better than your lost one.
Laid off from a position? Beacon Staffing is here to help you start your job search!