The state of today's workforce is changing rapidly. In the past, many employers have based their hiring decisions on competence and a veritable laundry list of skills and educational achievements in their quest to find the "perfect candidate."
There are no perfect candidates, though, and as companies struggle to recruit the candidates they need, being a "good fit" has become more critical. Managers are now asking themselves, "Which is more important: experience or potential?"
Let's look at some of the benefits of hiring candidates for their potential rather than their experience and education.
Benefits of Hiring for Potential vs. Experience
If a candidate applies for your advertised job opening and doesn't have the three years of experience you require, you may write them off before even looking at their resume. They may have checked every other box, though, and would be an excellent fit for your company.
Hiring for potential means being open to considering more than years of service as a measurement of what the candidate has to offer.
Sometimes hiring for experience doesn't equal successful levels of performance. While they may have years of experience, those years may be without any significant results or growth. Knowledge is excellent, but passion is essential, too.
Fresh Perspectives
One of the significant benefits of hiring someone with more potential than experience is that they bring a fresh perspective to the table. Candidates with less experience are more likely to ask questions and challenge the status quo, both of which are necessary to stimulate higher levels of passion, motivation, and curiosity. When you're hiring someone new, you want a candidate that is willing and able to learn new skills that will push your company to grow and provide better service and value to your customers.
Soft Skills and Attitude
The hard skills necessary to perform a job can be easily taught to anyone. Attitude, however, and the personality traits and coping abilities that are known collectively as "soft skills" cannot be so easily learned. If an employee's personality doesn't mesh well with the workplace culture of the current team, it can have a costly effect on the whole staff.
If you're still looking to hire, get in touch with our team at Beacon Staffing today!
Every job seeker has their own set of quirks and perks. Opening your job search to include candidates with more potential than experience improves your chance of finding the elusive "perfect candidate" and enriching your company with fresh perspectives, bold ideas, and renewed enthusiasm for your company's culture and goals.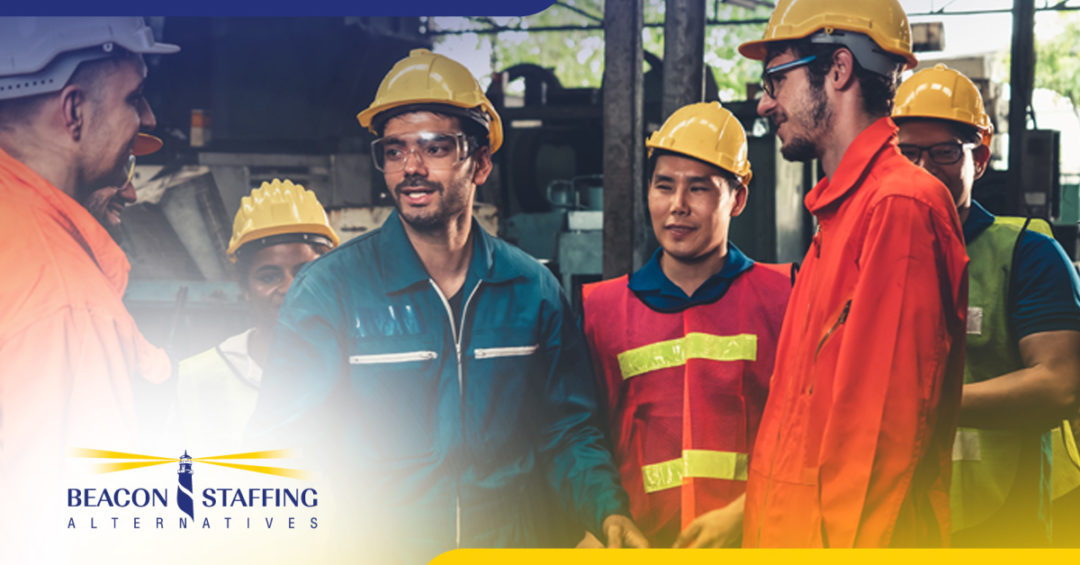 As a job seeker in a highly competitive job market, you may be concentrating on your technical skills and training as you prepare to go out and capture your dream job. For many employers, though, soft skills are becoming as important and attractive for potential employees as any technical skills.
Soft skills help you work well with others and grow in your career. Soft skills, also called interpersonal skills, are challenging to teach but are vital to long-term success, professionally and personally.
Here are six soft skills that can help any job seeker get and keep a job.
1. Communication skills
From the interview process through to daily work on the job, communication skills are helpful in every aspect of your job. They are necessary, since communicating effectively with others is vital when you are working on a project.
Communication skills include:
Active listening
Conflict resolution
Public speaking
Negotiation
Writing
2. Adaptability
The ability to adapt to change in today's fast=paced and ever-changing work environments is critical as a soft skill. Change happens quickly, and adapting and accommodating those changes is a very valuable skill. Adaptability skills include flexibility, organization, optimism, cooperation, and patience.
3. Problem-solving
Employers highly value the ability to solve a problem quickly and effectively. Whether it requires immediate action or research and consultation with colleagues, problem-solving skills set you apart from other candidates.
Problem-solving skills include:
Research
Critical thinking
Risk management
Troubleshooting
Resourcefulness
Decision-making
4. Work ethic
Work ethic is the ability to follow through on duties and tasks. A strong work ethic ensures that work is completed promptly and demonstrates an eagerness to learn and succeed. Many employers would choose a candidate with less training or experience who has a strong work ethic.
Attention to detail, time management, motivation, and being results-oriented are all characteristics of a strong work ethic.
5. Teamwork
Teamwork is the ability to work well with others. Being a good team player at work means pulling your weight and working together with team members to get projects done. Giving guidance and feedback, collaborating, coordinating, and contributing are valuable teamwork soft skills that employers are looking for.
6. Creativity
Many different skill sets are included under this broad category, including some that are technical skills. Creativity as an employee means finding new ways to complete jobs and perform tasks, engineering new ways to improve systems or processes, or even exploring new business angles. Innovation, experimentation, open-mindedness, and taking calculated risks are examples of creativity at work.
If you're currently looking for work, cultivating soft skills and including them on your resume and cover letter can help you go further no matter what type of job you're after.
Ready to put your soft skills and experience to work? Contact Beacon Staffing for all of your job search needs.