Tag:
Warehouse Temp Agency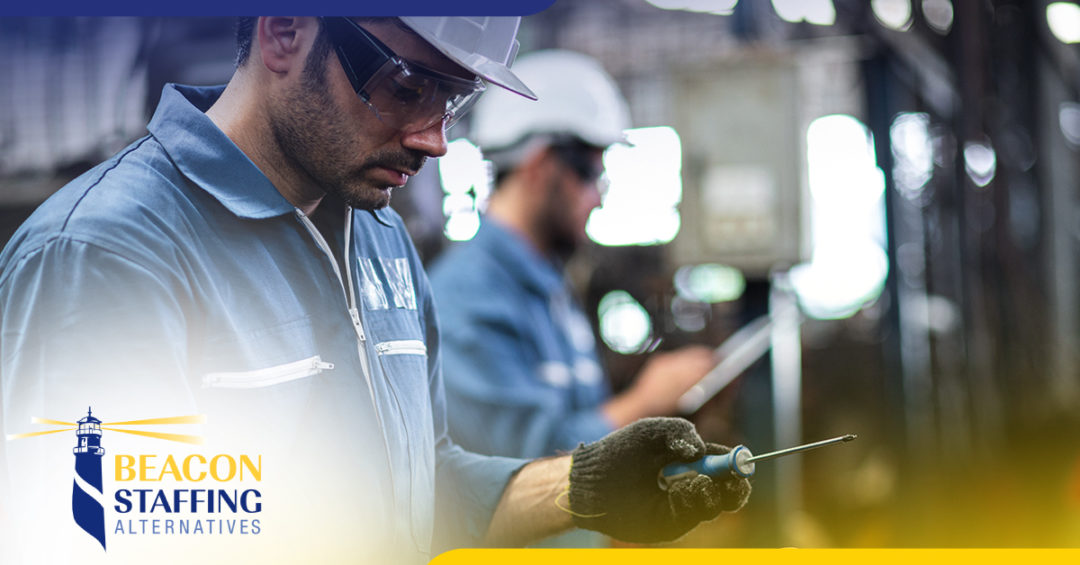 Have you ever worked with a warehouse temp agency in Maryland to fill your staffing needs? If not, you definitely should.
Working with a warehouse temp agency in Maryland provides a variety of benefits. They include cost effectiveness, reduced risk of bad hires, and securing qualified staff during peak season. Other benefits include acceleration of the hiring process, gaining access to a wide network of pre-screened candidates, and potentially finding high-quality permanent hires.
What is a Temporary Warehouse Staffing Agency?
A temporary warehouse staffing agency uses its resources and expertise to source, hire, and manage workers for their client companies. The agency's warehouse staffing services provide client companies with skilled workers who fit the job qualifications, blend with the company's culture, and regularly meet or exceed their employer's expectations.
A temporary warehouse staffing agency handles most of the hiring process:
Creating job postings
Responding to job inquiries
Reviewing cover letters and resumes
Pre-screening candidates
Testing candidates
Scheduling interviews
Conducting interviews
Checking references
Conducting background checks
Negotiating job offers on behalf of candidates
Assisting with onboarding
Taking advantage of these staffing services frees up time to take care of other high-level responsibilities.
7 Reasons to Work with a Warehouse Temp Agency in Baltimore and Aberdeen, Maryland
#1 Warehouse Temp Agencies are Cost Effective
Working with a warehouse temp agency in Baltimore and Aberdeen means having the hiring process done for you. This frees up time and money to take on additional projects, increase revenue, and strengthen your bottom line.
Partnering with a warehouse staffing agency lets you outsource some of your Human Resources department's hiring duties. Because warehouse temp workers are employed by the agency, you avoid spending time and money on payroll, taxes, benefits, unemployment insurance, worker's compensation insurance, and other employment issues.
Most warehouse temp agencies provide health insurance, vacation days, and other benefits for their employees. This helps attract quality warehouse temp workers to your company while paying less than you do for your full-time employees.
Working with a warehouse temp agency means paying only for the services used. This lets you improve efficiency and maximize your budget without draining your resources.
Warehouse temp workers help relieve the workload for your permanent employees. This helps you avoid paying overtime, especially during busy seasons.
When a temp worker's assignment ends, they can take on assignments with other employers. Because the worker is employed by the temp agency, you avoid having to let the worker go or pay unemployment insurance claims when you no longer need their services.
You have no need for concern if a warehouse temp worker does not work out. Simply ask to have the worker replaced at no additional charge.
#2 Reduce the Risk of Bad Hires with a Warehouse Temp Agency
Partnering with a warehouse staffing agency in Maryland means you can quickly replace a worker who does not work out. Perhaps the worker is not good at their tasks or does not get along with their coworkers.
Although the agency likely has a stringent candidate interviewing, testing, and screening process, mistakes can happen. Fortunately, you can receive a qualified replacement in a short amount of time. This helps maintain productivity, efficiency, and employee morale.
#3 Find Warehouse Staffing Solutions During Peak Season
Working with a warehouse temp agency in Baltimore and Aberdeen ensures you have the skilled workers you need when you need them. This is especially important during your peak season.
Planning ahead lets you streamline the onboarding and training processes so that warehouse temp workers blend with your full-time employees. When your peak season ends, the temp workers can move to other assignments. This flexibility keeps your employees busy without being overloaded with work.
#4 Warehouse Temp Agencies Accelerate the Hiring Process
Partnering with a warehouse staffing agency in Maryland lets your orders get filled quickly. This is especially important if an employee calls in sick, quits, is let go, or does not show up for their shift.
Adding temp workers to your team helps prevent bottlenecks in warehouse operations. It also minimizes the need for your employees to work overtime to reach daily targets.
#5 Workers are Pre-Screened by Warehouse Staffing Agencies
Taking advantage of a local temp agency's warehouse staffing services provides you access to vetted candidates. These candidates already passed phone screenings, interviews, skills tests, background checks, reference checks, and drug screens and are ready to begin producing.
Adding pre-screened warehouse temp workers to your team increases productivity and performance. This helps reach your daily and weekly targets and company goals.
#6 Warehouse Staffing Agencies Have a Vast Network of Candidates
A local warehouse staffing agency has the knowledge, resources, and time to provide you with skilled temp workers. These experienced workers are ready to begin producing when you need them.
The warehouse staffing agency has access to vetted candidates with the skills, experience, and personality to fulfill the job duties and blend with your company's culture. These candidates can quickly begin working to help maintain warehouse operations.
#7 Temporary Warehouse Workers Can Lead to Permanent Hires
Pay close attention to how the temporary warehouse workers blend with the rest of your team. You may want to hire the best workers as full-time employees after their contracts end.
You might want to offer temp-to-perm roles when you need to hire full-time employees. You can try out the workers on a temporary basis, typically 3-6 months, before deciding whether to extend a permanent job offer.
Offering temp-to-perm roles lets you determine whether the workers blend with your company's culture, have the skills required to perform the work, and are able to reach daily and weekly targets. You also can evaluate how well the workers get along with others, implement constructive feedback, and prioritize ongoing learning and development.
If a worker in a temp-to-perm role displays the characteristics that are important for full-time employment, you have multiple options:
Offer the worker a permanent position at the end of their contract period.
Offer the worker a temp-to-perm role or full-time job in another position they may be better equipped for.
Let the worker move on to another assignment with a different company.
Partner with the Top Warehouse Temp Agency in Baltimore and Aberdeen, Maryland
Finding the right warehouse temp talent can be difficult and time-consuming. Avoid the hassle and headache by partnering with Beacon Staffing. As the premier locally owned staffing agency in Hartford and Cecil Counties, we take warehouse staffing to the next level. Our tried-and-true process puts you in touch with top warehouse talent.
Beacon Staffing can connect you with warehouse workers who can fill a range of roles. Our recruiters learn what you want from your ideal candidate, then connect you with job seekers who can contribute across your organization. Because your warehouse deserves top workers, we use an extensive process to vet candidates. This lets you quickly and easily hire exceptional talent any time you work with us. Our team goes above and beyond the call of duty to help fill your needs for warehouse workers. We send you talent who fit your requirements. We also respond to your questions and concerns as they come up.
How Do Our Warehouse staffing Services Work?
We provide screened, qualified candidates in a range of industries. Our flexible, customized staffing services help you find the dependable workers you need to keep your company productive and profitable. Beacon Staffing has deep knowledge of the local community and innovative approach to staffing lets us deliver qualified, hardworking talent to you. We offer flexible staffing services to fit your business needs.
We understand that "one size fits all" is not effective for staffing. This is why we offer customized staffing solutions to meet our clients' changing needs.
We evaluate our employees in a range of categories and skill levels to ensure you receive top-performing talent. We also perform criminal background investigations, drug testing, and other screening to provide trustworthy, reliable workers who positively impact your company's culture.
Whether you need temp, temp-to-perm, or direct-hire staffing services in Maryland, count on Beacon Staffing to deliver talent you can trust. We get you the skilled workers you need when you need them.
Our staffing managers take time to learn what type of employee you like and need. Then, we send you qualified workers to fill your business needs. This leaves you more time to take care of your customers.
Contact Beacon Staffing for Exceptional Warehouse Staffing Services in Maryland
We value building relationships with clients and regularly welcome new employers. Our personal knowledge and experience in the community, combined with our contemporary approach to warehouse staffing, makes us your trusted guide with proven results.
For first-rate warehouse staffing services, choose Beacon Staffing. We bridge the gap between companies and warehouse job seekers and ensure both parties achieve their desired results. For more information, please contact Beacon Staffing in Baltimore and Aberdeen, Maryland today.