The college graduates of today are tomorrow's future in business and industry. As they leave school and embark on the search for a job in their new career, it is essential to ensure your company gets noticed by recent college graduates. Employers must effectively communicate their brand to these bright young prospects, nurture this generation's talent, and help them grow professionally and personally.
Challenges for New Graduates
Employers are regularly confronted with two main issues involving new graduates: they are either inundated with applications for specific roles or, for more specialized roles, there is high competition and a much smaller pool of talent to choose from.
Receiving Too Many Applications
When too many people with similar hard skills apply for a role, it can be difficult to distinguish who is most suitable for the job. Though volume may be the problem, this indicates a flaw in your application process. It may be too easy to apply, or your screening process may need to be narrower.
There are several ways to solve this problem. Consider using an Applicant Tracking System (ATS) and including detailed screening questions. The answers to these questions will illustrate the applicant's communication skills, personality, and motivations for the job. You can also set parameters for a suitable applicant, including a cover letter and links to a portfolio or work samples.
Hard-to-Reach Talent Pools
This issue can create many problems for your team. High competition and a small pool of qualified talent for many specialist roles exist. Attracting talent to your company, and retaining it, requires thinking beyond salary and benefits. Candidates need to see the advantage of being a part of your organization instead of going with another brand.
Marketing your company and its role is the best way to address this issue. Your employer brand should be consistent and visible across your website, social media, and any media placements you pursue. Potential job candidates need to see the consistency of your brand message and company culture across platforms and throughout the hiring process.
Develop your marketing with your ideal candidate in mind and focus on those channels to reach job seekers looking for the specific roles you need to fill.
More than half of all college graduates feel unprepared for the working world when they leave school. During this confusing time, employers must build strong connections with these new job seekers and offer them a future of growth and success.
Looking for college graduates? Beacon Staffing can find you graduates that are eager to work!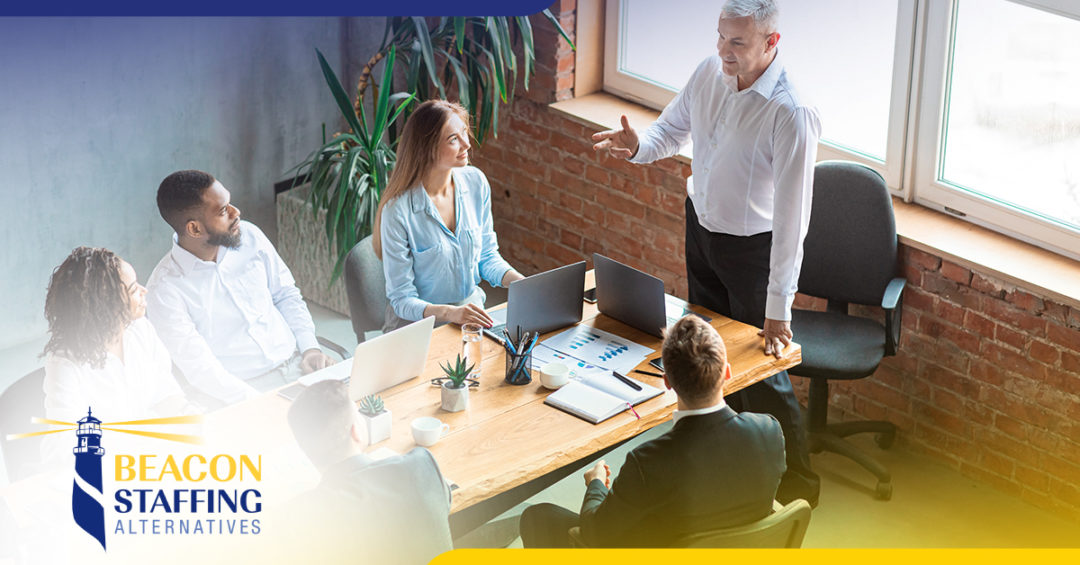 Recruitment is more competitive than ever. Many companies have shifted hiring strategies to focus more attention on passive candidates. Passive candidates are well-qualified individuals who, while not actively looking for work at your company, may still consider working there. Targeting passive candidates can successfully attract top-quality talent to your company while saving you time and money.
Consistently attracting passive candidates to your company requires you to focus on how the public perceives your company and how you can elevate your company in the public eye and reach the high-quality passive candidates you need.
Ready to improve your hiring strategies and save your company time and money during recruitment? Here are three secrets for attracting the passive candidates you're looking for:
1. Elevate Your Company's Online Presence
We are attracted to what we see, so creating a solid online brand is a significant way to drive recruitment. Your company's online presence is multi-faceted, including the website, social media profiles, media coverage, reviews, videos, and more. Actively managing your digital presence and curating your brand to cultivate positive perceptions among candidates and customers alike is crucial.
A robust online brand:
Educates passive candidates about your company culture, including well-being, benefits, and perks,
Showcases employee accomplishments and testimonials, and
Highlights the company's initiatives.
You can improve your digital strategy by adding vibrant, engaging videos and imagery and providing information and education through blog posts and articles. You can also hire a professional website designer to revamp your website and hone your marketing efforts for peak effectiveness.
2. Revamp Your Job Descriptions
Job descriptions should constantly evolve and adjust to reach the candidates you're looking for, including passive candidates. Well-written job descriptions not only communicate your company's mission and values but also can interest potential passive candidates enough to make them consider leaving their job, even if they are otherwise content there.
Include information in your enhanced job descriptions that goes beyond the job itself. Discuss the company's mission and values, opportunities for growth and career advancement, and the perks and benefits.
3. Expand Your Recruitment Focus
It is common for companies to focus on specific candidate profiles when recruiting. While this might seem a good tactic, it can be detrimental to growing a diverse, highly qualified team. By limiting the scope of candidates, you could miss individuals who, while not possessing every mark of education or experience, can make meaningful contributions to your company.
Are you ready to attract top-quality passive candidates? By using the advice above, you can more effectively attract passive candidates that will be an asset to your company, adding value and improving your organization from day one.
If you need help hiring, turn to Beacon Staffing today!